Verizon Ellipsis Jetpack MHS900L - mobile hotspot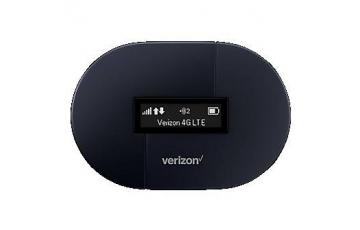 The Verizon Ellipsis Jetpack MHS900L provides a secure data connection for up to eight Wi-Fi-enabled devices simultaneously. Keep track of your data usage, battery life, network signal strength and number of connected devices right from the bright, easy-to-read LED display.

As a router, the MHS900L only supports eight devices on 2.4GHz 802.11n Wi-Fi.

The MHS900L's download speeds ranged from 1Mbps down to 22Mbps down. But the 7730L's download speeds ranged, in the same locations, from 10Mbps to 68Mbps.

An attractive matte black puck, the MHS900L measures 2.34 by 3.46 by 0.57 inches (HWD) and weighs 2.79 ounces. On the back panel, there's a micro USB charging port. A two-line, monochrome display shows battery, signal strength, and the number of devices connected, by default.

You get IPv6 and port filtering, but no MAC filtering. There's a firewall with no manageable options other than VPN pass-through.

The hotspot connects via Verizon Prepaid 4G LTE, so you won't need to worry about another monthly fee, and it'll give you fast, reliable speeds. Like other hotspots, it lets you set up a Wi-Fi

Wi-Fi is a type of wireless networking protocol that allows devices to communicate without cords or cables. Wi-Fi is technically an industry term that represents a type of wireless local area network (LAN) protocol based on the 802.11 IEEE network standard. It is the most popular means of communicating data wirelessly, within a fixed location, today.

network, and if you have the bandwidth in your current reception area, you'll be able to easily connect up to 8 devices including laptops, phones, and tablets.

The device's 2,100 mAh battery that Verizon delivers 10 hours of use on a single charge. The indicator screen doesn't give you a ton of details, but it's clear, and with such a small form factor, it really is the best option for the price.